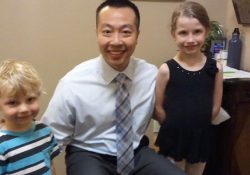 Many parents  seeking chiropractic treatments at Markham Chiropractic + Rehab often ask Markham Chiropractor, Dr. Ng "Can my kids benefit from Chiropractic care?"  
The answer is "Yes!" 
See one of our 10 year-old patient, Lilian, explains how chiropractic can help you.
While a child's problems may not be as severe as their parents', children often have issues such as scoliosis, headaches and back pain which can be due to physical stresses at school (such as wearing heavy back packs, using the computer and/or using cell phones for texting).
To schedule a Chiropractic appointment for your kids, give our office a call 905-554-2118.